Hey popcorns! 🍿
It's been a hot minute since I've looked into my blogging notifications and read and I'm feeling GUILTY! 😂 Not guilty but just apologetic. . . it's been a crazy two weeks with moving school but I only have one more day next week and me and mt bestie are going for lunch after school so I'm very excited!
Also I got to watch the sunset last night with my two bestest friends ever (how did I get so lucky?! They're AMAZING!) and it was honestly an out-of-this-world-moment. I just felt so young, free and positive. It was one of the greatest nights of my life, I didn't have a care in the world, which is so unlike me, and it was nice.
With everything going on at the moment (is life crazy lately or is it just me?) I've been losing myself in the one and the only book world, it's been such a massive escapism lately and I felt like that spark of my passion for reading is burning brighter than ever.
I am so sorry everyone for this incredibly long intro but I just have so much to say, if you're new here I don't usually do this 😂
The other day I went to the library as lockdown is really starting to ease and I was SO EXCITED!! Anyways when I got there (there were literally no people to be found, it felt like I was in my own paradise) it's totally not like my idea of paradise doesn't include people or anything… and the librarian said to me that the check out limit was 20 books. It's usually eight and I swear I could've cried (I'm an emotional girl okay?!) so I basically walked out of the library with 20 books. Hell yes, I'm a book worm and proud.
Please don't shame people's love for reading, we don't shame people who scroll on their phone for endless hours. We don't shame people who game for hours on end so why do people think it's okay to shame us? Comments like 'ew why do you read?' and 'uh that's so boring' actually hurt. Think before you speak everyone 😅
Now slowly moving on…
In this post I'm going to be sharing with you the books I checked out (not literally, but I agree, these books would be hot if they were people) from the library ,their average rating (sourced from Goodreads) and the blurb! 🥰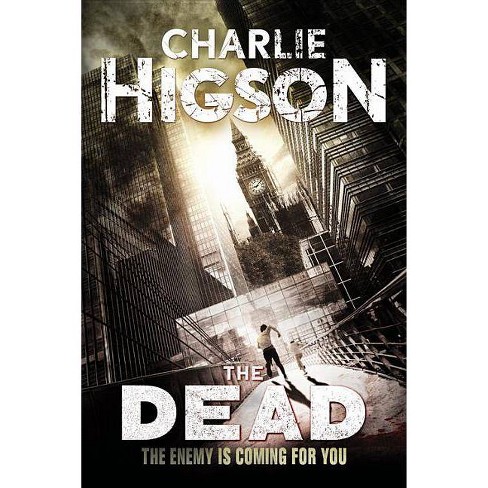 The Dead by Charlie Higson
Everyone over the age of fourteen has succumbed to a deadly zombie virus and now the kids must keep themselves alive. A terrible disease is striking everyone over the age of fourteen. Death walks the streets. Nowhere is safe.
Maxie, Blue and the rest of the Holloway crew aren't the only kids trying to escape the ferocious adults who prey on them. Jack and Ed are best friends, but their battle to stay alive tests their friendship to the limit as they go on the run with a mismatched group of other kids – nerds, fighters, misfits. And one adult, Greg, a butcher, who claims he's immune to the disease. They must work together if they want to make it in this terrifying new world.
But when fresh disaster threatens to overwhelm London, they realize they won't all survive…
Average Rating: ★★★★☆ (4.3)
The Beneath by S C Ransom
It's an ordinary school day, but Lily is about to step into a nightmare. The girl rushing out of the Tube tunnel tells a crazy story about an underground community and a charismatic leader with an evil plan. How can Lily trust her? It's only when Lily finds herself in the labyrinth beneath London that she learns the horrific truth – about the Farmer, the Crop and about herself.
Average Rating: ★★★☆☆ (3.42)
Only Love Can Break Your Heart by Katherine Webber
A grieving girl. An unexpected boy. A perfect love story . . . until it isn't perfect at all.
Sometimes a broken heart is all you need to set you free…
Reiko loves the endless sky and electric colors of the Californian desert. It is a refuge from an increasingly claustrophobic life of family pressures and her own secrets. Then she meets Seth, a boy who shares a love of the desert and her yearning for a different kind of life. But Reiko and Seth both want something the other can't give them. As summer ends, things begin to fall apart. But the end of love can sometimes be the beginning of you…
Average Rating: ★★★☆☆ (3.77)
One Of Us Is Next by Karen M. McManus
Come on, Bayview, you know you've missed this.
A ton of copycat gossip apps have popped up since Simon died, but in the year since the Bayview four were cleared of his shocking death, no one's been able to fill the gossip void quite like he could. The problem is no one has the facts.
Until now.
This time it's not an app, though—it's a game.
Truth or Dare.
Phoebe's the first target. If you choose not to play, it's a truth. And hers is dark.
Then comes Maeve and she should know better—always choose the dare.
But by the time Knox is about to be tagged, things have gotten dangerous. The dares have become deadly, and if Maeve learned anything from Bronwyn last year, it's that they can't count on the police for help. Or protection.
Simon's gone, but someone's determined to keep his legacy at Bayview High alive. And this time, there's a whole new set of rules.
Average Rating: ★★★★☆ (4.05)
Countless by Karen Gregory
When Hedda discovers she is pregnant, she doesn't believe she could ever look after a baby. The numbers just don't add up. She is young, and still in the grip of an eating disorder that controls every aspect of how she goes about her daily life. She's even given her eating disorder a name – Nia. But as the days tick by, Hedda comes to a decision: she and Nia will call a truce, just until the baby is born. 17 weeks, 119 days, 357 meals. She can do it, if she takes it one day at a time …
Heartbreaking and hopeful by turns, Karen Gregory's debut novel is a story of love, heartache and human resilience. And how the things that matter most can't be counted.
Average Rating: ★★★☆☆ (3.97)
Juniper Lemon's Happiness Index by Julie Isabel
It's been sixty-five painful days since the death of Juniper's big sister, Camilla. On her first day back at school, bracing herself for the stares and whispers, Juniper borrows Camie's handbag for luck – and discovers an unsent break-up letter inside. It's mysteriously addressed to 'You' and dated July 4th – the day of Camie's accident. Desperate to learn the identity of Camie's secret love, Juniper starts to investigate.
But then she loses something herself. A card from her daily ritual, The Happiness Index: little notecards on which she rates the day. The Index has been holding Juniper together since Camie's death – but without this card, there's a hole. And this particular card contains Juniper's own secret: a memory that she can't let anyone else find out.
Average Rating: ★★★☆☆ (3.84)
All These Beautiful Strangers by Elizabeth Klehfoth
In the last day of summer, Grace Fairchild, the beautiful young wife of real estate mogul Allister Calloway, vanished from the family's lake house without a trace, leaving behind her seven-year old daughter, Charlie, and a slew of unanswered questions.
Years later, seventeen-year-old Charlie still struggles with the dark legacy of her family name and the mystery surrounding her mother. Determined to finally let go of the past, she throws herself into life at Knollwood, the prestigious New Englandschool she attends. Charlie quickly becomes friends with Knollwood's "it" crowd.
Charlie has also been tapped by the A's—the school's elite secret society well known for terrorizing the faculty, administration, and their enemies. To become a member of the A's, Charlie must play The Game, a semester-long, diabolical high-stakes scavenger hunt that will jeopardize her friendships, her reputation, even her place at Knollwood.
As the dark events of past and present converge, Charlie begins to fear that she may not survive the terrible truth about her family, her school, and her own life.
Average Rating: ★★★☆☆ (3.87)
Carry On by Rainbow Rowell
Simon Snow is the worst Chosen One who's ever been chosen.
That's what his roommate, Baz, says. And Baz might be evil and a vampire and a complete git, but he's probably right.
Half the time, Simon can't even make his wand work, and the other half, he starts something on fire. His mentor's avoiding him, his girlfriend broke up with him, and there's a magic-eating monster running around, wearing Simon's face. Baz would be having a field day with all this, if he were here — it's their last year at the Watford School of Magicks, and Simon's infuriating nemesis didn't even bother to show up.
Average Rating: ★★★★☆ (4.24)
More Than This by Patrick Ness
A boy drowns, desperate and alone in his final moments. He dies. Then he wakes, naked and bruised and thirsty, but alive. How can this be? And what is this strange deserted place?
As he struggles to understand what is happening, the boy dares to hope. Might this not be the end? Might there be more to this life, or perhaps this afterlife?
Average Rating: ★★★☆☆ (3.99)
The Rest Of Us Just Live Here by Patrick Ness
What if you aren't the Chosen One?

The one who's supposed to fight the zombies, or the soul-eating ghosts, or whatever the heck this new thing is, with the blue lights and the death?

What if you're like Mikey? Who just wants to graduate and go to prom and maybe finally work up the courage to ask Henna out before someone goes and blows up the high school. Again.

Because sometimes there are problems bigger than this week's end of the world, and sometimes you just have to find the extraordinary in your ordinary life.

Even if your best friend is worshipped by mountain lions… 
Average Rating: ★★★☆☆ (3.71)
Hey, Sherlock! by Simon Mason
Amy Roecastle is beautiful. Selfish. And missing.
Vanished without a trace in the middle of the night, she's taken her ferocious dog – and something else, too. Something deadly.
Amy's best friend is lying to Inspector Singh, who has no leads and no idea. Cue Garvie Smith. Teenage slacker. Undeniable crime-solving genius.
Garvie's one step ahead of the investigation. But there's nothing simple where Amy is involved. And this time Garvie's about to find himself in way over his head.
Average Rating: ★★★★☆ (4.40)
Kid Got Shot by Simon Mason
Garvie's exams have started, but so has another mystery. A kid got shot last night, a kid from Garvie's school, and Garvie thinks he can work out who did it quicker and better than the police. He'll go to any lengths to find his answers.
Average Rating: ★★★★☆ (4.03)
Angel by L.A. Weatherly
Angels are all around us: beautiful, awe-inspiring, irresistible.
Ordinary mortals yearn to catch a glimpse of one of these stunning beings and thousands flock to The Church of Angels to feel their healing touch.
But what if their potent magnetism isn't what it seems?
Willow knows she's different from other girls. And not just because she loves tinkering around with cars.
Willow has a gift. She can look into people's futures, know their dreams, their hopes and their regrets, just by touching them. But she has no idea where she gets this power from.
Until she meets Alex…
Alex is one of the few who know the truth about angels. He knows Willow's secret and is on a mission to stop her.
The dark forces within Willow make her dangerous – and irresistible.
In spite of himself, Alex finds he is falling in love with his sworn enemy.
Average Rating: ★★★☆☆ (3.87)
I hop you all enjoyed having a look at some of the books I'm going to be reading, and weren't some of the covers so beautiful? Some of them were incredible 💕
Also it's my birthday this weekend which is so exciting, I'm still going to try post a KIP chapter out if I don't you all know I'm too busy partying with my book… on my own 😂
Have you read any of these books? Would you recommend any? Will you be adding any of these to your TBR?
That's a wrap 📚